Rifled Barrel
While coming home from vacation we went through Nebraska. We stopped at a pioneer museum, and it was one of the highlights of the trip. It wasn't pioneer as in sodbusters, but it was pioneering inventions and such. Anyways, a great place to see. Here is this little jewel, an antique rifling machine. This would be difficult to construct, but would work nicely. The metal rod (right side of pic 2) would have a cutter on it that would rifle the barrel. I highly doubt if you could ever match the precision of the riffling at spudtech, but it could work good on small bore, or larger bore barrels that are not machined there. Here are the pics, enjoy!: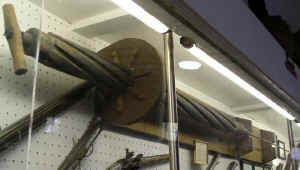 Click for a bigger picture

Click for a bigger picture

If anyone has details on how riffing machines such as this were constructed, please let me know! My email can be found on the misc. page.